Birmingham Campus
8:00a - 12:00p
Summer Hours (Both Campuses)
CLOSED
Item request has been placed!
×
Item request cannot be made.
×

Processing Request
Welcome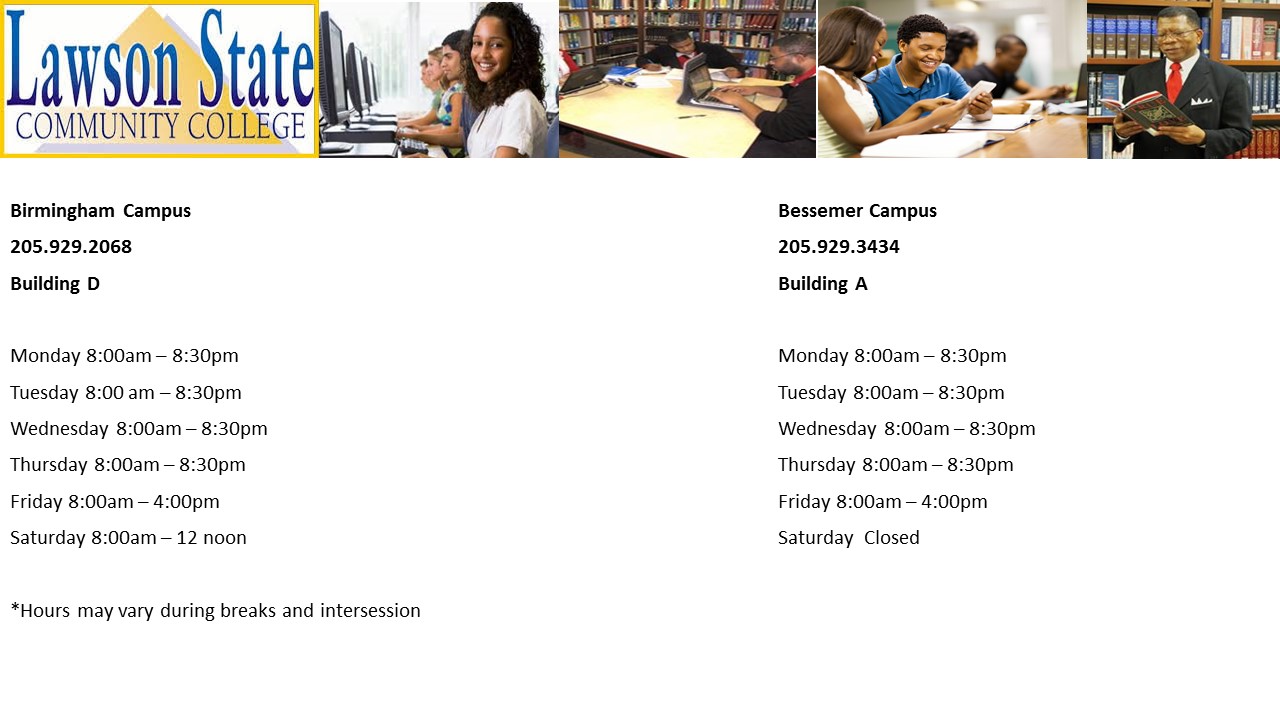 To register for a Library Orientation session click on the link below:
Library Loan Policy
Borrowing / Circulation
1. Circulation Desk Hours: The Circulation Desk always closes fifteen (15) minutes before the closing of the Library. 

2.  Credentials: In order to borrow items from the library, the borrower has to bring a valid identification card issued by Lawson State Community College,

3. Length of Loans: Students may borrow books for 14 days, with one renewal. Books may be  renewed in person, by telephone or online. The Circulation Desk's phone number is (205) 929-2068 (Birmingham campus) or (205) 929-3526 (Bessemer campus). There is a four book limit for this service.
Reserve Items
There are three types of reserves. Loan periods vary according to the conditions specified by the faculty member who placed the item on reserve.

1. For Library Use Only:  Students may check out "For Library Use Only" materials for two hours. The items may be renewed for in-house use if there is not a demand for the item(s).  
2. Overnight:  A maximum of two "Overnight Reserve" books may be checked out for overnight use. All "Overnight Reserve" books are always due at 8:00 a.m. Fines will be assessed for each half-hour the resources are not returned to the library the following day. 

3. Two Day: Students may checkout specific reserve materials for two days with permission from instructors.     
Due Dates
Due date cards are located in the back of every book or audiovisual resource circulated from the library as well as in the library catalog patron status module. 
It is the responsibility of the borrower to return the item(s) on time. 

Book Return: All circulating materials and reserve items must be returned at the circulation desk.

Renewals: All library items may be renewed for an additional 14 days.  Renewals are accepted over the phone, in person and online. Renewals will only be granted if there is no demand for the book. 

Responsibilities: The borrower is responsible for all items checked out on his/her identification card.  

Over-dues/Fines: It is the responsibility of the borrower to return library items when they are due.The library will charge the borrower a fine for each overdue item according to the following rules:  
25¢ per item each day the item is overdue with a maximum fine of $20
$1.00 per hour past due (or fraction of an hour over fifteen minutes) will be charged forall reserve materials
There is a $5 charge for all reserve materials removed from the library without properly checking out the materials
Payment of Fines: The fines for any overdue items should be paid at the time the item is returned. The item(s) must be returned and fine(s) paid before the student will be allowed to check out additional items from the Library.  Fines will not exceed cost of replacing the borrowed materials.  Unpaid overdue fines and failure to return library materials will result in blocking of student. This notice is only a reminder of the borrower's overdue item. Failure to receive such a reminder in no way increases or decreases the liability of the borrower. 
Lost Items: The cost of lost resources borrowed from the library is  determined by the current book price in Books In Print plus a $5 processing fee. If the lost item is not listed in Books In Print, $30 will be charged for all hardback books  and $15 for all paperback books. If the borrower returns the lost item promptly, the borrower will still be charged replacement costs for lost or item(s) for which he/she has paid.   But he/she can return the lost item and be reimbursed for the cost of the lost resourse if the following criteria is met:  he/she presents the recovered item(s) and provides a payment receipt. 
Printing and Copying
You must have your Lawson State Student ID card to print/copy.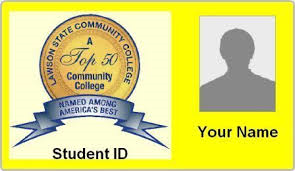 Your assignment is where it all starts!
Understanding your assignment is key. You should read your assignment as soon as you receive it so you have time to ask your instructor about anything that you're not sure of. 
Having the assignment with you when you search can help ensure that the sources that you find will work for the assignment.  Circle, highlight or underline important requirements.  If you are not sure what your instructor wants, ask!
What is your instructor asking you to do?
When reading your assignment, focus on verbs like analyze, summarize or compare to understand what your instructor wants from you.  Other important words to watch out for are how, why, when, etc.  All of these words will help you focus on what you need for your research topic.
Click on the link below to look at a list of common instruction words you will see in assignments.
What are the rules of the assignment?
Many instructors have rules that they want you to follow in order to complete the assignment successfully. They frequently include things like:
How long your paper or presentation should be
What kind of information you can use

That might include things like your textbook, class notes, books, articles, and Internet
It might also include how long your sources need to be, when they were written and who wrote them

What style format you should use
What style of writing or presentation you should use

Informational, persuasive, reflective, annotated bibliographies, scientific, etc.

In what format your work should be turned in
What kinds of topics you can use
Take a look at the sample assignment below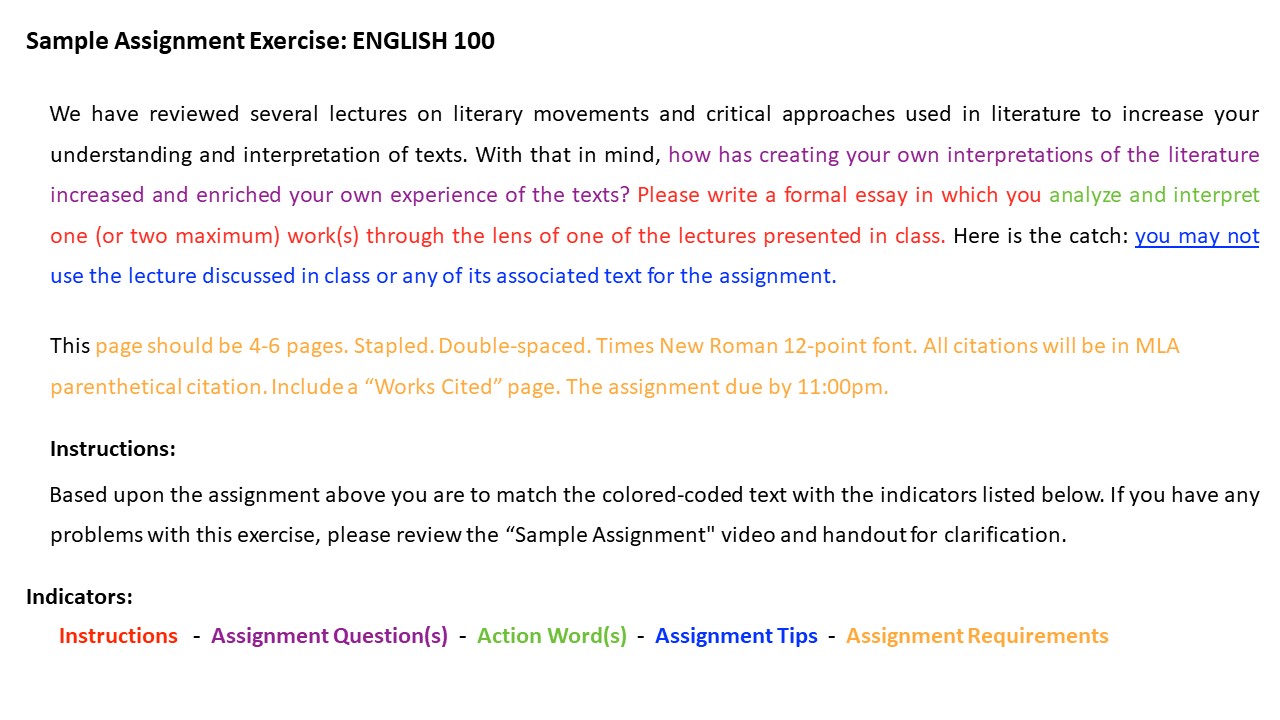 Before you begin your research, you should do the following:
Read and understand your assignment (ask your instructor questions if you do not understand something)
Think about what resources are available on your topic (please review the Information Cycle Chart)
Brainstorm your topic (use the graphic organizer as a starting point)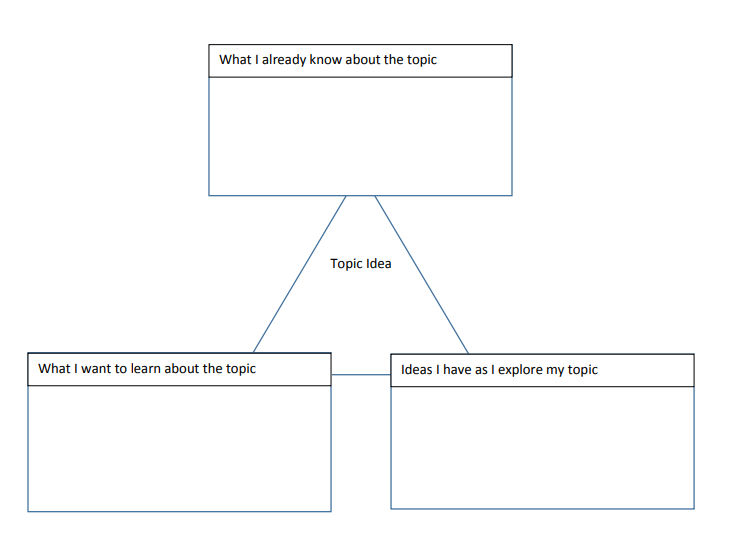 My Account is your personal library account online.
Login to My Account to see what books you have out and when they are due, place a hold on a book that's checked out, renew your books, and change your My Account password.
Click on the My Account link at the top of the page.
Your USER ID is your Lawson State Community College ID number. You must use a valid Lawson State Community College ID number to login. 
The PASSWORD is issued when you checkout materials for all first time users. Once you have logged in, you can change your password. To change your password select  My Account, then Change Pin.
If you do not know your Lawson State Community College ID number, or if you forget your My Account password after you have changed it, ask for assistance at one the Library's service desks.
Searching the Library Catalog
 To find books on your topic:
Start with words associated with your topic.

Type the word(s) in the Search the Catalog

box

above. 

Click the

Search

button.

 
Use the drop down menu to search by Author, Title, and Subject.
Use All Fields to do a general keyword search.
Use Advanced Search for more options.
Click the Search button.

"All Fields" Search Tips

All Fields is a keyword search that looks for words in the title, author, subject and note fields. Multiple words are searched together as one phrase. You may use the Boolean operators AND, OR, NOT to expand or narrow search results. Use an asterisk (*) to search word variations.

For example:
space and manned

space or NASA

space exploration not robotics
How do I access the online databases to find articles?
As a student at Lawson State you are provided access to the online databases while currently enrolled during the semester. If you are not currently enrolled you will not be eligible for remote access based upon our licensing agreements of the database vendors. All registered students need to use their (7-Digit Student ID Number) username and (6-Digit Date of Birth) password to access the databases. Your student ID number is assigned to you at the start of your first semester.
In order to access the library's databases off campus, you will need the following information:
If do not receive access, you will receive the option to complete the following form:
What are the library databases and which one should I use?
One of the biggest problems that individuals have with websites is that they are not sure that the content that they receive is accurate.  Here are some basic ways to evaluate a website.
Who - created the page/site? Look for an "About us"? What are author's/organization's qualifications?

What - is page/site about? Does it have info you need?

Where - is the info coming from? Check the URL/domain, look up domain owner

Why - is the site on the web? How does it affect the info? Look for purpose, mission, and advertising. Is the site being persuasive?

When - was the site created/updated? Is the date important for the timeliness of the content?

How - accurate or credible is the page? How would I cite it? Are there spelling or grammar errors on page? Can I verify the info from another source?
How to Avoid Plagiarism: In Easy Steps